Review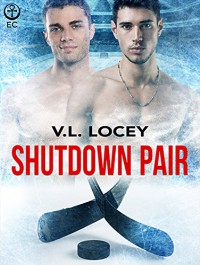 V.L. Locey scores with Shutdown Pair. Writer Heath Parker meets drifter Wyatt Dickenson at his beer-league hockey game when they were in need of a goalie. Heath offers Wyatt a place to stay while he is in town. His curiosity causes him to try to uncover Wyatt's mysterious past. This M/M Sports Romance is appropriate for adult audiences. It takes place in Frost Lake, Minnesota.
I love Heath's humor. His curious nature and creative mind make for some interesting scenarios. Wyatt is a great character. He starts off as mysterious. As you discover his past, your heart goes out to him. He is smart, a talented goalie, and nice guy. Heath's boss Roger is an annoying human being on a power trip with an inferiority complex. I'm sure most of us can relate with having known someone like that. Deke Reynolds makes a great antagonist. He is a jerk whom I did not like, to say the least.
This 93-page book is a fast read that I completed in one sitting. I love that Heath came into Wyatt's life. They are good for each other. I like how the story ended. Shutdown Pair was well resolved and felt complete. It made me smile.
Complimentary copy provided by the author in exchange for an honest review.