Review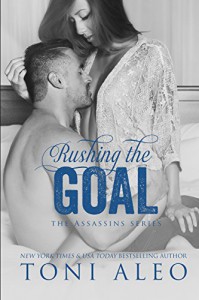 I love Toni Aleo. I started my book blog because of her. Every time I pick up one of her books, I almost get a little nervous, because I have put her on a pedestal. When I read books by other authors and go to give it a star rating I think to myself, is it Toni Aleo good. Yes, Rushing the Goal lives up to the Toni Aleo standard. I LOVE this book.
We first meet Lucy Sinclair in the Bellevue Bullies Series. She is the older sister of Jude, Jayden, and Jace. She is a walking billboard for bad luck. She is an amazing mom, with an adorable seven-year-old daughter, Angie, that is her mini-me. Lucy was burned by her ex-husband, Rick Hart, who is the poster boy for idiots. The things that man does are unbelievable.
Benji Paxton is a defenseman on the Assassins. He is the line mate of Lucy's brother, Jayden. He lost his wife and daughter in a tragedy twelve years ago. He struggled with alcoholism and has been sober for eleven years. He is totally awkward when it comes to women. I follow Toni Aleo's Facebook page, so I found it amusing that not only does Benji have a Funko Pop Collection, but that he also watches Supernatural. Sounds like he has a lot in common with a certain author.
Lucy meets Benji when she brings her daughter to a hockey camp run by Shae Adler. I love their first interaction. Benji is a fabulous coach. He hits it off great with Angie. He is better with her then her own father. Angie cracks me up. Her "swords" were a riot. The things that come out of her mouth are entertaining. Her prayer was great. I love the Sinclair sibling conversation. Especially their text, they are quite amusing. I also, appreciated all the updates with the rest of the Sinclair family. They are a terrific family.
Rushing the Goal by Toni Aleo is another incredible book in the Assassins Series. The plot is believable, heartbreaking, and inspiring. This book had me crying and laughing out loud. The characters are incredibly developed. They are people you would want as your friends, minus Rick Hart and company. If you are an Assassins/Bellevue Bullies fan, you will not want to skip this book. If you have not read a book by Toni Aleo, what's stopping you? Get it now but start with book one, Taking Shots, because you will want to read every book in the series.
Complimentary copy provided by NetGalley in exchange for an honest review.